Comfortable and cheap Vilnius Hostel!
We are in the heart of the city, so an overnight stay in Vilnius Hostel - will be an ideal place to rest! We ensure a comfortable and safe stay and offer our guests a friendly atmosphere, modern amenities and professional service. The hostel offers clean and cozy dorm rooms with comfortable beds, as well as double rooms for those who want more privacy. All rooms are spacious and bright, with a pleasant interior to make you feel at home.
The reception is open 24/7, so we can come at a time convenient for you. Read more about our hostel rooms and services here.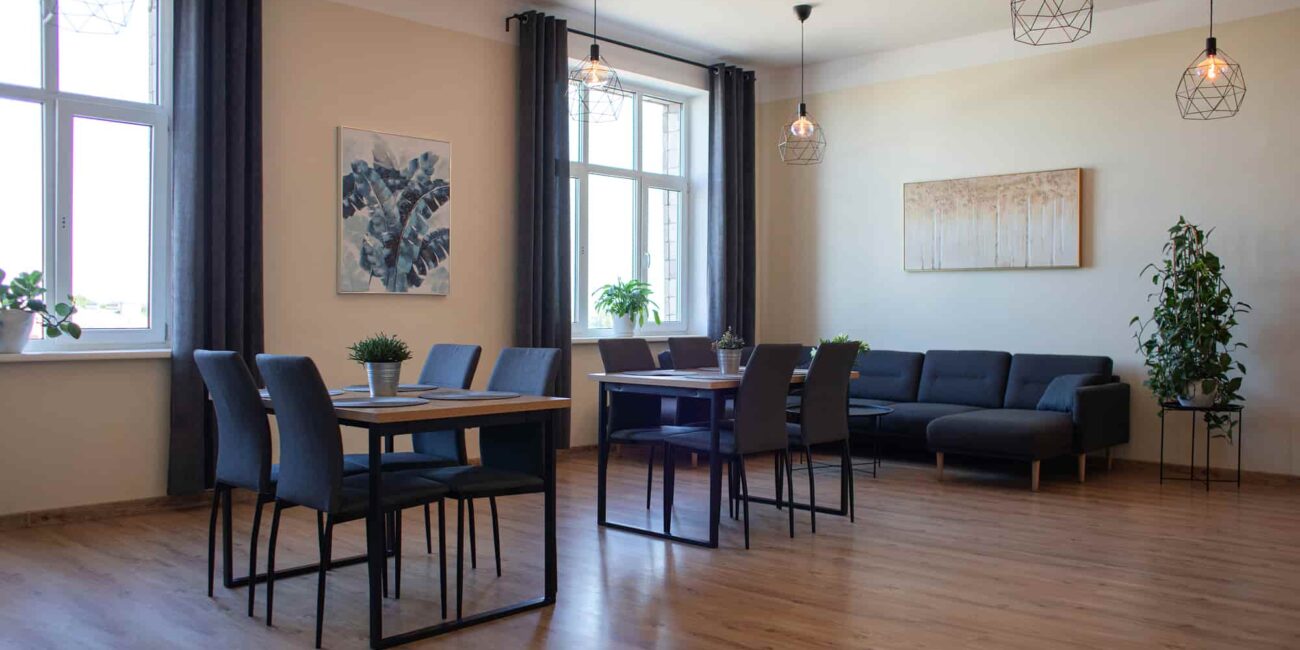 Comfortable accommodation in Vilnius
We are located in the heart of the city, making it a great place to stay during your stay in the capital! Our guests can easily reach all the city's most important facilities, both by public transport and on foot. Our hostel is the choice for those who want to be at the epicenter of all events.
Convenient payment methods
We are a modern company, which is why we offer various payment methods to both private and business customers - from cash payments to electronic payments or invoices. Our goal is to make the checkout process easy.
Hours of silence
We want our guests to feel comfortable and able to relax. We observe strict quiet hours: from 22:00 to 06:00. We encourage guests to respect each other's privacy and not make noise. The hostel is popular with travelers looking for some peace and quiet after an intense exploration of the city.

Free cancellation
We understand that our customers' plans can change, which is why we offer the possibility to cancel your reservation for free. This allows customers to plan their trip more flexibly and without additional worries or costs.

High-quality accommodation in Vilnius
Our hostel enjoys high customer ratings. Renovated premises, professional service, comfortable accommodation, modern amenities and security and attention to each customer - this is the recipe for the success of our hostel.
Special offers
We want each of our guests to feel special, so we regularly offer special discounts and offers. These offers help our guests save and enjoy an even better stay. Hostels in Vilnius are waiting for you!
Services near Hostel
We are in the heart of the city, so you will find all the necessary services in and around the hostel:
Washing and drying services
Storage service for things
Luggage storage room
Currency exchange
Gaming rooms
Cafe Bar
Night club
Pharmacy
Dentistry clinic
Clinic
Flower shop
Book store
Escape rooms
It's amazingly cool and very pleasant employees

Ruslan Pop


I recommend it to everyone, convenient location, good communication, always helpful, really great, suitable for all people

Ernest Voronecki


Очень приятное месяцев. Добродушный просонал, always ready to help

Marina Khamroeva


I really liked this hostel, very clean, wet cleaning 2 times a day, very pleasant staff, I advise everyone to come to this hostel, you won't regret it

Natalia Terletskaya


clean rooms, nice staff, good location.

Julia Astasova


Did not let me stay because I was American

Tyler R


I liked everything very much, the communication is very good, the rooms are clean, the staff is kind and helpful. Thanks.

rhyming grigs


Good hostel near the station

Наимчон


Really nice hostel one of the best its really good for 45 eur the rooms are clean the service is good i recommend going here

Paul Grigonis


Thank you very much to the staff of the hostel, excellent location, beautiful design, cozy, comfortable place, feeling like you are at home, beautiful program from the windows, everything is necessary for cooking in the kitchen, bed linen is changed every week, there is a parking space, the staff is friendly, In one word, I ADVISE HOSTEL OF A HOSTEL

Emil Asggarkhanov


The best hostel in Vilnius. Very good location, right next to the bus and train station. Always clean and tidy. I recommend!!! 🤩

Alla Pirizkova


Hello to everyone, the hostel is good, clean, pleasant, welcome to the administrator, not friendly to the question, the place is heard, not satisfied, not satisfied, settled on the next day, pleasant questions, not recommended, thank you

Sergey Novikov


Hello, I want to express my gratitude to the manager of the hostel. It was my first time in Lithuania. I had to spend the night somewhere. I went to the hostel. The administrator treated me so well. they think but I recommend leaving 10+ Great thanks to the Managers and employees of the Hostel 👍👍👍

Kurban


Very neat and clean hostel. Top recommendations! 💯

Gabia Proske


I recommend it. Great hostel, convenient location, cool staff, clean and tidy rooms. Excellent value for money.

Renata Morkuniene


Возле Автовокзале Хостел Stations, Очень ободно, близко, части, Комфорт, Красивая Девушке работать Администрация, а еще цена normal, Проходите Пожалуйста HOSTEL

Dilmurod Khushmuminov


Here is the most beautiful and gentle number, thank you very much

Alena


Very convenient hostel, close to the station, I recommend it to everyone!

you are cool


Good hostel

Som Lama


I want to express my gratitude to the management and staff of the hostel «Stotis Hostelis» for the warm welcome and excellent conditions for staying in the hostel The cleanest rooms, charming cozy places of rest, equipped with everything you need, kitchen, modern design of the hostel - everything speaks of a wonderful taste and such a wonderful attitude towards people. At "Stotis Hostelis" kindness, care, peace and tranquility reign. The convenient location - within walking distance of shops and food places makes it even more attractive. I wish the staff of the Station Hostel health, success, many pleasant and easy-going guests. THRIVE!!!!! Thank you for everything.

Anna Didenko


A very friendly team always helps with everything, I recommend it 💓👍👍👍👍👍especially a very friendly and cheerful hostess👍👍👍💓

Jan Kozar


Great location, clean, cozy rooms, helpful staff. Great value for money! I recommend it.

Good work


A lovely Hostel, conveniently placed. A very competent and friendly staff, always helpful for a visitor traveling through. I've received a pleasant welcome and had a short, but wonderful stay. Definitely coming back. If you come with a car, although limited - there is also a parking solution in a secured space. Special thanks to the staff at the reception.

Arnas G


The people in administration are super 👍

Ahmed Saad


Hello, I've been living in this hostel for 2 years, new renovation, kitchen, and everything is comfortable! Management and staff at a high level! Especially the administrator Deimante and Anna are very nice girls, Wi-Fi, bus station, railway station nearby, quiet and clean! 👍👍👍👍👍

Shuhrat Egamberdiev


Hello, dear visitor, if someone wants to stay in Vilnius for a while, that is, the hostel is located right next to the bus station.

Yevgeny Kozlov


Good communication, responsible work staff, quiet, you can definitely stay, clean, who wants a cheaper and quieter rest. I recommend!

Roma Antonova


Спокойное место, удобно. Repair done. You can cook it yourself and eat it. Removed.

Natalia Zhdanovich


The most beautiful girl in Lithuania works at the reception, her name is beauty Deimantė.

СУХРОБ ЖАЛОЛОВ


Very nice staff! Good location! I recommend it❤️

Elvyra Ra